Has Carrie Underwood had plastic surgery? Gossip columnists love to speculate about which star has or hasn't had plastic surgery done and what procedures they might have opted for. It's as if they stare at photos all day long, trying to determine what small changes have occurred and how those changes might have come about. It keeps them in business, but some of the ways they try to ferret out information can come across as harsh and unfair. Such is the case with the wording of those who are speculating about the options singer Carrie Underwood may have used to change her appearance.
Carrie Underwood Plastic Surgery Before and After Pictures 2023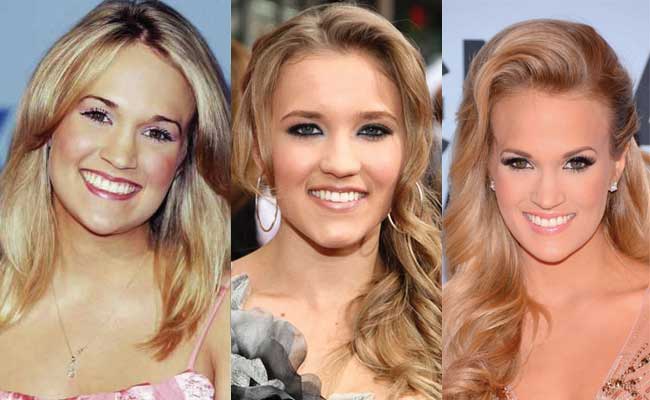 Carrie Underwood Before and After Plastic Surgery
Carrie Underwood "Accused" of Undergoing Plastic Surgery
The most critical aspect of many of these articles lies in their word usage. Titles "accuse" Carrie Underwood of undergoing plastic surgery before they go on to slam her appearance as artificial. Did Carrie Underwood have plastic surgery? To find the answer, they bring in experts to talk about the possible procedures that have taken Underwood's features to different proportions.
Carrie Underwood Nose Job a
Some feel she has had a nose job done, bringing her facial features into more balance. Others claim the smoothness of her face indicates some sort of filler or Botox injections to remove the lines and wrinkles that may have appeared there. And some feel Underwood has had injections to fill out her lips.
The biggest problem is the tone used in so many of these articles, with the reaction to the possibility of Underwood having plastic surgery becoming an almost personal attack. Many spout inappropriate remarks that leave the impression that Underwood has somehow betrayed herself, her fame and her fans by making what should be considered a very personal choice. Using the word "accused" would be more in line with someone who has committed a crime, not someone who underwent a medical procedure of a private nature.
Then there are those who talk about her "aging". Carrie Underwood is thirty-one years old, hardly an old woman who needs to worry about losing her youth. So many of those who indulge in this type of gossip to earn a living appear to believe that a woman older than twenty-five needs to watch themselves for signs of advanced aging.
This attitude plays into the obsession within our culture about staying young and staying beautiful. It's damaging not only to the poor stars who have abuse heaped on them for the slightest flaw but also to all the young girls who feel forced to live up to an unrealistic and unattainable image of beauty. Plastic surgery can be a boost to one's confidence, and it can help deal with the passing of time. But in the hands of those who only wish to criticize and make snide remarks, it can be a bludgeon to those who must endure constant unfair critiques that make them feel less than beautiful simply because they have lived another year. Such gossip is a poor use of time and talent and should be met with a distaste for those who indulge in it for their own profit at the expense of other people.